The Wideband Amplifier is a small (196 mm x 118 mm x 64 mm) dual RF front end that supports GSM/GPRS/EDGE, UMTS/HSPA/WCDMA, CDMA2000, and LTE-FDD/TDD capability varying from 700–950 MHz and 1.7–2.7 GHz.
This complete integrated RF front end is software-defined and offers frequency-agile, multi-standard RF capabilities, enough RF performance for small cell applications. The Wideband Amplifier is a portable fan-less enclosure housing two independent RF front end (RFE) cards and powered using an external battery. 
It has a typical power consumption of 30W at 25°C ambient with both transmitters enabled.
The Wideband Amplifier  has an on-board Environment Management IC (EMIC) to monitor and respond to physical parameters such as RF output power, receiver interference, and operating temperature.


Software control of the Wideband Amplifier is handled by OnBoard Management (OBM), available with OBM version 2.0.1 and later. The plugin will probe and instantiate two distinct RfFrontend software objects, one for each of the two RFE cards (Card A & Card B) in the unit.
Each RFE card comprises 2 paths: a TX path and an RX path. The figure below illustrates how the RF paths are mapped and controlled by the OBM software: the TX path has only one bank controlling all components, while theRX path has 3 banks.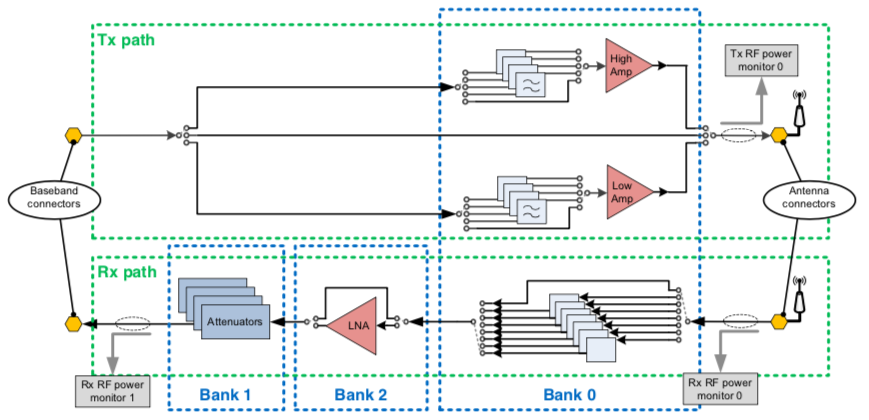 When OBM probes the Wideband Amplifier, paths on Card A are mapped to the baseband side's antenna connector (0,0)and paths on Card B are mapped to baseband connector (1,0). Refer to the OBM documentation for details on how to use antenna connector IDs to interact with the RFE.
The figure below illustrates the connections between the Wideband Amplifier and the TBS-Catcher.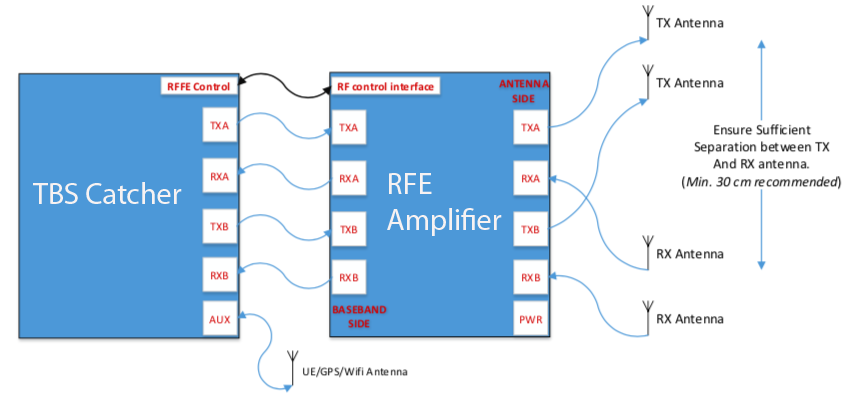 Ensure a minimum of 30 cm separation between the TX and RX antennas. Do not connect antennas
directly to the RF ports on the Wideband Amplifier. Attach antennas to the Wideband Amplifier using RF interconnection cables.


Application of two-base universal IMSI / IMEI catcher DT TBS:
IMSI/IMEI catching
– in this mode the system detects identities of all mobile phones within it's effective range.
Selective jamming of communication
– in this mode system operator can block communication of all mobile phones defined as targets.
Presence verification
‐ This operational mode is intended to detect and select targets of interest (according to IMSI/IMEI identifications) from the total number of subscribers located within operational area of the system.
Data Analysis / Target Correlation
‐ This mode allows the system to detect identities of mobile phones (IMSI/IMEI) which belong to particular targets.
Direction Finding Support
– the system forces target's phone to get into transmit mode (without any visible mark) so that DF / Homing systems can track the transmission direction to identify the target mobile.
Downgrade from 3G/4G/5G to GSM
for operation by an active or passive interception complex
 Based on the above capabilities, the system can support variety of operational needs such as: 
‐ Detection of identities of all mobile phones in the areas of interest;
‐ Identifying of mobile phones which belong to particular targets;
‐ Selective jamming of phones in restricted areas (prisons, embassies, etc);
‐ Presence detection of targets in specific area of interest (border crossing, airports, public areas);
‐ Detect location of hidden mobiles (prisons, classified places);
  System can operate with variety of power sources such as AC supply, batteries, car supply etc and by that, it can be installed and operated in many types of applications and environments (fixed installation, remote control configuration, transportable, vehicular, man pack).

Amplifier Base kit
Amplifier, connecting wires, power supply unit, 
Various carrying bags