Multi-Channel, Multi-Band High Power Base Station 
MORE POWER AND DISTANCE
WIRELESS NETWORK MONITORING & SCANNING 

FREQUENCY AGNOSTIC – FROM 400MHZ TO 4GHZ 
FLEXIBLE CONFIGURATION - UP TO 16 RADIOS

LTE/UMTS/GSM/CDMA2000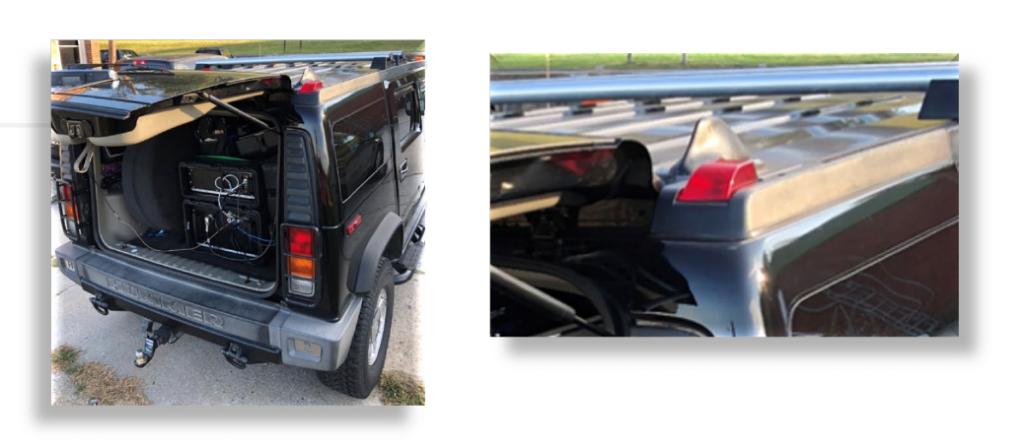 The DT-MMS is a multi-channel, multi-band high power base stations. The system can be configured to support up to 16 base stations transmitting on any combination of up to 6 frequency bands simultaneously. Each frequency band utilizes highly filtered 25 Watts or 100 Watts power amplifiers. The system only requires a single wide-band antenna for operation. This simplifies the integration task and makes it possible for the system to be moved from one vehicle to another.
Each BTS can be configured dynamically and independently on any frequency and radio access technology supported by the baseband radios: GSM/GPRS/EDGE, CDMA2000, 3G or LTE-FDD/ TDD. The system offers frequency agility from 400MHz to 4 GHz on each radio. The DT-MMS system includes: power amplification, filtering, cabling, antenna(s) and the multi-radio baseband unit. It is compatible with both portable use cases and vehicular applications, allowing for high operational flexibility in the field. The DT-MMS is offered in versatile configurations, including a rugged portable rack-mount enclosure that houses the 6U rack mount Transportable Amplification Unit and separate enclosure for one or two 3U half-width Portable Base Station Unit.

Portable Base Station Unit (PBU)


The PBU is at the core of the 

DT-MMS

 design. It is a multi-channel base station unit

that includes up to 8 base stations. Each radio is capable of supporting a 2G, 3G or

LTE (FDD and TDD) base station as well as monitoring the surrounding mobile networks.

The system is frequency agile and can support all cellular bands from 400MHz

to 4 GHz. The PBU can either be used as the radio source for the Transportable

Amplification Unit (TAU) when a larger coverage is required or with the lower power

Portable Amplification Unit (PAU) for short range operations.
Transportable Amplification Unit (TAU)
The TAU is a high power multi-band radio front end that can amplify 

the output of one or two PBUs (up to 16 base stations) simultaneously. 

The TAU supports up to 6  frequency bands (FDD and

TDD) simultaneously. The peak output power per band can be  25 Watts 

or 100 Watts depending on the configuration. The system only requires a

single wide-band  antenna for cellular operation.

All transmit and receive bands are highly filtered and the status  of each power 

amplifier is constantly monitored and reported. The output power of each cell can be 

independently controlled via a graphical user interface.

MANAGED ACCESS  •  BORDER SECURITY  •  LAW ENFORCEMENT  •  DISASTER RECOVERY
IMSI/IMEI catching – in this mode the system detects identities of all mobile phones within it's effective range. 

Selective jamming of communication – in this mode system operator can block communication of all mobile phones defined as targets. 

Presence verification ‐ This operational mode is intended to detect and select targets of interest (according to IMSI/IMEI identifications) from the total number of subscribers located within operational area of the system. 

Data Analysis / Target Correlation ‐ This mode allows the system to detect identities of mobile phones (IMSI/IMEI) which belong to particular targets. 

Direction Finding Support – the system forces target's phone to get into transmit mode (without any visible mark) so that DF / Homing systems can track the transmission direction to identify the target mobile. 

Downgrade from 3G / 4G to GSM for operation by an active or passive interception complex 

Based on the above capabilities, the system can support variety of operational needs such as: 
‐ Detection of identities of all mobile phones in the areas of interest;
‐ Identifying of mobile phones which belong to particular targets;
‐ Selective jamming of phones in restricted areas (prisons, embassies, etc);
‐ Presence detection of targets in specific area of interest (border crossing, airports, public areas);
‐ Detect location of hidden mobiles (prisons, classified places);
  System can operate with variety of power sources such as AC supply, batteries, car supply etc and by that, it can be installed and operated in many types of applications and environments (fixed installation, remote control configuration, transportable, vehicular, man pack).
Attention:

The IMSI catcher operate only with IMSI, IMEI and TMSI 

Video of IMSI / IMEI catcher in Registration mode



Video of IMSI / IMEI catcher in Scanning mode