Attention
We are willing to provide a free demo on our premises, provided that the client has an end user certificate.
If you are asked to pay for a demo in advance or refused to provide it most likely you are dealing with scammers.

SAI-2. The System of Active In-Between Interception 



SAI-2

is a new improved version of the legendary SAI active GSM interceptor, which was delivered to more than 60 countries and rightfully is the best solution in the active systems market.
SAI-2
is available in a variety of configurations. The most common configuration includes 2 base stations with 8 active channels 900/1800 Mhz, which, if necessary, can be extended to 12th.
The given configuration is intended for work with 8-12 GSM channels on 900 or 1800 MHz. Additional base stations are available.
There are a lot of system layout options - portable, military, combined, etc.

SAI-2 
is a modular, active GSM interception System that can intercept incoming & outgoing GSM communications, with any type of encryption, in real-time.
SAI-2 
is so versatile, it can work with moving and driving targets, providing fast, reliable interception, interrogation, data analysis, IMSI/IMEI catching and selective jamming of GSM traffic in the area.
Advantages
Efficient interception of both outgoing and incoming calls without disconnecting targets from the network;
Interception of multiple conversations and multiple GSM
operators simultaneously;
Selective jamming;
Manipulation of target's phone;
DF support for mobile target location;
Interception of data transmitted through GPRS
A5/1 decipherer
A5/1 decipherer is a separate device connected directly or remotely to the SAI-2. 

The decipherer is composed of new generation circuits board on ASIC components housed inside a ruggedized case. Average deciphering time is 24 keys per sec.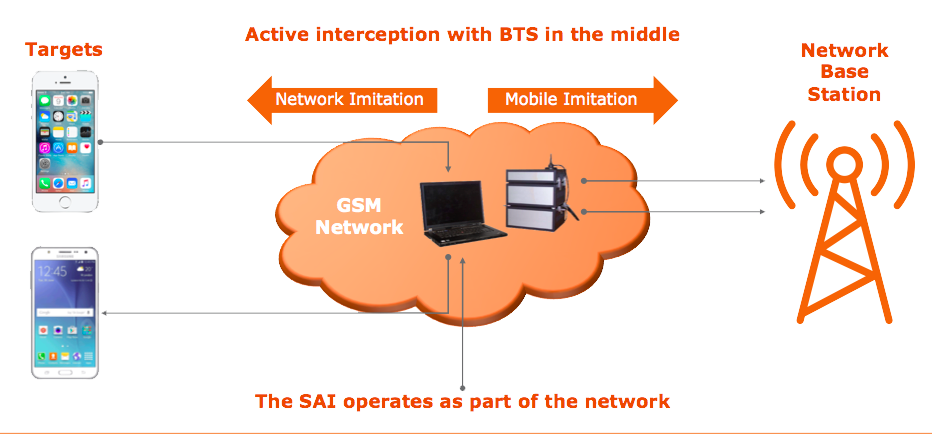 Demo and training of interception systems are carried out in our premises or in the client's country, subject to an official invitation from government agencies